Mason is a Music Master, he has been full of surprises.
Every time we all meet up I find out something new about him. First, I find out he's as sound engineer. Second, I find out he plays the violin. Third, I find out he sings. What?!
What will I find out next? Ohhhh, he already graduated from Azusa Pacific University, in southern California, and he teaches music in Glendora, California.
Mason is loyal and confident.
He is a man that has a vision and knows how to get there.
From the beginning of this internship, I have felt that I could completely trust him in his ability and character. Since day one, I have asked him a million questions about how and why he does what he does and he always responds graciously, patiently, and with a ton of confidence in what he is doing.
Mason is the Sound Engineer for 2017 Program Artist Caleb Henry.
I have enjoyed learning from Mason about all the technical aspects of recording, sound and mixing. He has great perspective on what to look for and what is important in a mix. He also really values the character of a song.
I have noticed his style of recording is very authentic…he likes the sound and the feel to match the artist and who they are as a person.
I have realized how important that is and he does this so well with Caleb Henry's music.
Mason is truly someone of value at Idle Tuesdays Recording Studio.
Mason is a Music Master.
-Alyssa Lujan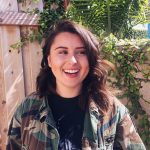 Alyssa's Social Media Handles:
Instagram: @alyssanlujan
Facebook: Alyssa Lujan
Mason's Social Media Handles:
Facebook: Mason Haynie
Idle Tuesdays Social Media Handles:
Instagram: @idletuesdaysla
Facebook: Idle Tuesdays Recording Studio
Twitter: @idletuesdaysLA
YouTube: Idle Tuesdays Recording Studio